Meet author
Ina Yalof
,
Food and The City
, a fascinating oral history from an unforgettable gallery of New Yorkers who embody the city's culinary heart and soul. The book focuses on the country's most food-crazed metropolis, New York, with an eye toward eliciting the stories of the people who fuel it.
Food and The City
is full of delicious insights, inspiring stories, and singular anecdotes that together paint a vibrant picture of metropolitan food culture.

Yalof will read an excerpt of her book and talk about her amazing interviews with such New York greats as Dominique Ansel who explains what great good fortune led him to make the first Cronut and David Fox, third generation owner of Fox's U-Bet syrup.
Guest will get to munch on goodies from some of the food purveyors in the book such the classic New York (Fox's U-Bet) Egg Cream, the crowd feeding Rikers Island Carrot Cake, the infamous donut-croissant hybrid, the CRONUT from Dominique Ansel Bakery & Levain Bakery's famous cookies!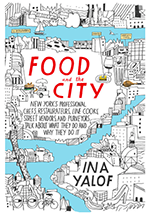 Food and The City
has been praised by New York best chefs including Daniel Boulud and Marcus Samuelsson.
About Book To Plate:
Farm & Fork Society
and
The Book House
have teamed up to present
Book to Plate
, an evening series like no other. Guests are invited to meet cookbook authors and sample a selection of their recipes, made from locally grown produce. These are one of a kind events, planned monthly, to bring you amazing produce, authors, and books, all in one place. Join the company of like-minded friends who value the health of their body, mind, and environment.
The Book House is located at 281 Essex Street in Millburn.

Tickets are $30 for Book & Event. $10 for Event Only. There are a limited amount of books available!